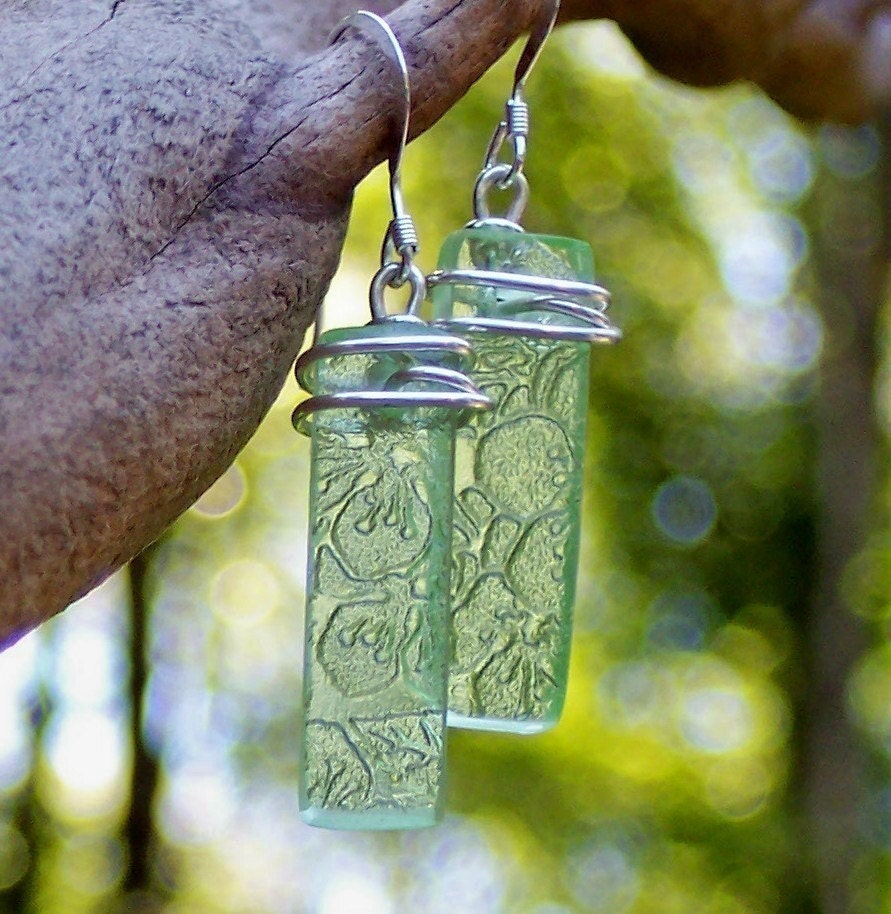 How adorable are these recycled glass earrings!?! I love the pattern in particular. Not that the pattern is anything very intricate but the simplicity is what makes me like them that much more. Recycled glass items in general have been interesting me more and more lately. I have been making some crafts of my own at home using recycled glass. I don't know why exactly recycled glass has been catching my eye so often but these earrings are completely my style and the fact that they are recycled glass is only an added bonus.
If you don't know what Depression Glass according to Wikipedia is clear or colored translucent glassware that was distributed free, or at low cost, in the United States and Canada around the time of the Great Depression. The Quaker Oats Company, and other food manufacturers and distributors, put a piece of glassware in boxes of food, as an incentive to purchase. Movie theaters and businesses would hand out a piece simply for coming in the door.
Most of this glassware was made in the central and mid-west United States, where access to raw materials and power made manufacturing inexpensive in the first half of the twentieth century. More than twenty manufacturers made more than 100 patterns, and entire dinner sets were made in some patterns. Common colors are clear (crystal), pink, pale blue, green, and amber. Less common colors include yellow (canary), ultra marine, jadeite (opaque pale green), delphite (opaque pale blue), cobalt blue, red (ruby & royal ruby), black, amethyst, monax, and white (milk glass).
Although of marginal quality, Depression glass has been highly collectible since the 1960s. Due to its popularity as a collectible, Depression glass is becoming more scarce on the open market. Rare pieces may sell for several hundred dollars. Some manufacturers continued to make popular patterns after World War II, or introduced similar patterns, which are also collectible. Popular and expensive patterns and pieces have been reproduced, and reproductions are still being made.
You can get a pair of your own recycled glass earrings or any recycled jewelry at Novica.com.
Because I love these earrings so much I have decided to give a pair away so you can enjoy them as much as I do. Click here to enter to win a pair of your very own Depression Glass Earrings. Good Luck and don't forget to check out Novica.com for even more awesome items!!!