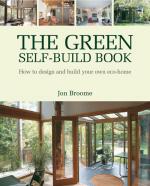 It is important for home owners to understand what they can do to their homes to make them more cost effective and energy efficient. Many people don't live in new houses or may not have the means to completely updated their home to be as green as possible. The Green Self-Build Book helps homeowners out with some great ideas you can do yourself to be greener and more cost-effective for you.
Description:The Green Self-Build Book is a highly illustrated, practical handbook on eco-friendly building for homeowners.
Whether you want a turf roof, solar-powered hot water, a straw bale home, or a super-insulated (and cost-efficient) house, you need to know the essential elements of the process. In The Green Self-Build Book, Jon Broome gives an overview of the different methods of sustainable and eco-friendly construction techniques for non-professionals.
The Green Self-Build Book gives inspiration and information to guide you through the green building process. It is intended for anyone who is planning a do-it-yourself project, and for housing professionals, students, and teachers.