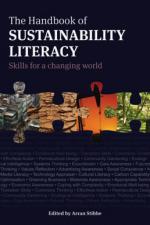 The Handbook of Sustainability Literacy
I constantly say that we have to be educated properly to solve any problems. We have to know what evils we are fighting and accurate knowledge is the best tool we can have by our side to gain success. In the book The Handbook of Sustainability Literacy
you learn about real issues our world is facing and are given active-learning exercises to help you as the reader develop the skills to recognize and hopefully solve these issues. The Handbook of Sustainability Literacy is different in that way because many books just give you facts or opinions on how that particular author or group of authors would solve the issue. Here you one your own learn how to come to a conclusion with the skills you have gained.
Product Description:
Responding to the threats of climate change, peak oil, resource deletion, economic uncertainty and energy insecurity demands the utmost in creativity, ingenuity, and new ways of thinking in order to reinvent self and society. In The Handbook of Sustainability Literacy, leading sustainability educators are joined by permaculturists, literary critics, ecologists, artists, journalists, engineers, mathematicians, and philosophers in examining the skills needed in the twenty-first century. Among the many skills, attributes, and values described in this volume are values reflection, coping with complexity, permaculture design, transition skills, advertising awareness, effortless action, and ecological intelligence, each accompanied by ideas for active-learning exercises to help develop the skill. Far from being a rigid or definitive statement of the "one right way," however, the handbook is exploratory, aiming to open up new, unthought-of paths, possibilities, and choices. It is intended primarily for educators across the spectrum from higher education to informal education, but is also suitable for learners themselves and anyone interested in the literally "vital" issue of the skills we need to survive and thrive in the twenty-first century and build a more sustainable future. Contributors include John Naish, Satish Kumar, Patrick Whitefield, John Blewitt, Stephan Harding, and Stephen Sterling.