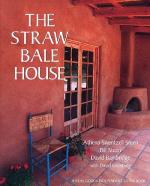 The Straw Bale House
I haven't read more than an excerpt of The Straw Bale House
but what I did read was quite interesting. How building used to be a community activity that brought people together. People used to respect the structures they built and treated them as if they were living. They were made, used, served their purpose and eventually died. The community used items they had readily available to build and repair structures.
Today billion dollar conglomerates build massive structures that often hurt our environment and are built in terms of making money for people who already have plenty of it. Most people don't think of the impact building massive structures has on our environment.
The Straw Bale House shows a way to build amazingly sturdy and incredibly efficient homes that can benefit the home owners, the community and our environment.
Description:
Imagine building a house with superior seismic stability, fire resistance, and thermal insulation, using an annually renewable resource, for half the cost of a comparable conventional home. Welcome to the straw bale house! Whether you build an entire house or something more modest-a home office or studio, a retreat cabin or guest cottage-plastered straw bale construction is an exceptionally durable and inexpensive option. What's more, it's fun, because the technique is easy to learn and easy to do yourself. And the resulting living spaces are unusually quiet and comfortable.
The Straw Bale House describes the many benefits of building with straw bales:
•super insulation, with R-values as high as R-50
•good indoor air quality and noise reduction
•a speedy construction process
•construction costs as low as $10-per-square-foot
•use of natural and abundant renewable resources
•a better solution than burning agricultural waste straw,
which creates tons of air pollutants